Auris Energy Sustainability
At Auris Group, we believe that the most effective way to transition to a zero-emission society is to help companies reduce their carbon dioxide emissions and increase their energy efficiency every day. For companies to remain competitive, and for society as a whole to move towards a cleaner future, we need continuously better and comprehensive energy efficiency, and the cleanest possible energy that can always be relied upon. This guides the operations of our Group today and in the future.
Ensuring a carbon-neutral future is essential for humankind. Companies can play a large part in reaching this goal, here and now. To combat climate change, companies need cleaner energy that increases their competitiveness and improves their bottom line.
2022 marked a turning point on the journey to emission-free energy production and society
2022 marked a turning point on the journey to emission-free energy production and society. Even though the war in Ukraine temporarily increased the consumption of coal and oil at the expense of the lower-emission natural gas, it is clear that, over a period exceeding one to two years, the war will throw into sharp relief the need for more local and distributed energy solutions with a better security of supply.
The development of Europe can no longer be built on fuels imported from countries with often authoritarian leaderships, as has traditionally been the case. The energy war expedites the already strong trends of renewable energy forms and sustainable electrification. To some degree, Europe's dependence on gas can also be solved by low-carbon or emission-free biogas and renewable methane produced means of hydrogen economy.
Auris Energia is focused on helping companies reduce their carbon footprint and improve their energy efficiency. We are committed to cutting the emissions arising from our and our customers' operations quickly and decisively. We have already managed to reduce the energy production emissions of several of our energy service customers, and the work continues. What is more, we have materially reduced our methane emissions resulting from gas distribution. As things stand, our methane emissions are below 0.1% of the gas we distribute.
For the time being, natural gas and biogas are the forms of energy most used by our company as well as our customers. Our gas-based operations are constantly moving in a cleaner direction, with the share of biomethane increasing. In the future, the same will apply to synthetic methane. We are also actively striving to increase the sales of geothermal energy, heat pumps as well as other low-emission energy solutions and improve energy efficiency.
We sell energy as a service and flexibly tailor our products to each customer's individual situation and goals. As a technology-independent company, we are able to provide our customers with energy production methods most suitable for their circumstances.
At Auris Energia, the safety of our employees and customers takes priority. Processing gases and working at heat and steam production facilities can involve significant risks. As a sign of how seriously we take the matter, we offer our employees comprehensive, continuously updated safety training as well as extensive occupational health services. Our performance-based remuneration system further engages everyone to maintain safety. Likewise, we place an emphasis on the mental well-being of our employees and partners. We want our people to enjoy working for us and feel that the work they do is meaningful. We want our customers and partners to find working with us a safe and pleasant experience and that we are always as good as our word.
The ongoing war in Ukraine is the most important humanitarian crisis in Europe since World War II. There are no winners in the war started and continued by Russia, and we consider what has happened and is still happening to be both unsavoury and inhuman. By the same token, however, the war will expedite Europe's transition towards safer, more sustainable and lower-emission energy sources and emission-free society. Auris Energia Group ensures that all of the fuels and services sold by us come from countries that do not support the war in Ukraine.
Sustainability informs our strategy and our operations as a whole
We provide our corporate customers with the cleanest possible energy and help our customers cut the emissions arising from their energy production as well as improve their energy efficiency on a daily basis.
We increase the share of renewable gases of all of the gas sold and distributed by us. Our goal is for renewable gases to comprise at least 50% of the gas sold by us by 2030.
Our technology-neutral heat service company increasingly uses lower-emission or emission-free energy sources to produce heat and steam. Our goal is for over 75% of our energy production to be carbon-neutral by 2030.
We source our gas from operators who can certify that the gas does not originate in a country that supports the war in Ukraine. We are constantly developing our operations in a more sustainable
direction, including the origin of gas as well as consideration for human rights. We price our products on market terms, responsibly and competitively.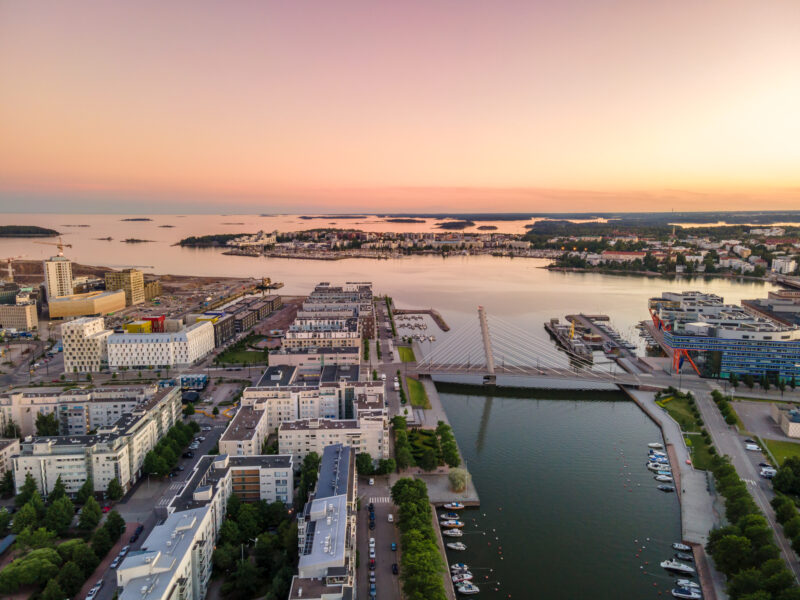 Our key sustainability themes
based on the materiality analysis:
Greenhouse emissions
Occupational health and safety
Adapting to climate change, flexibility and green transition
Security of gas supply
Asset integrity and critical event management
Environmental responsibility
Auris Energia Group recognises the environmental impacts of its industry and operations. Our operations support the energy transition of society at large and our long-term goal is to make our operations carbon neutral.
Natural gas and biogas play a very important role in the transition to a low-carbon future in line with the EU's objectives.
We help our customers transition from natural gas and other fossil fuels towards cleaner forms of energy. For instance, a switch from natural gas to biogas enables our customers to immediately become carbon neutral.
Summary of environmental impacts
In 2002–2022, we have reduced the methane leaks or gas losses of our gas distribution network by approximately 83%. We have invested approximately EUR 1.2 million annually in the necessary upgrades and improvements, which comes to a total of approximately EUR 22 million since 2022. In 2022, our methane emissions were down to approximately 0.1% of the gas distributed.
Our most significant theoretically possible environmental risks are related to burst pipes in the distribution network, fires, disruptions in gas distribution due to maintenance work on the distribution network, defects in gas appliances, shortages of personnel during disruption incidents, disruptions in gas distribution and vandalism in the distribution network. We prepare for technical faults and damage by engaging in 24/7 monitoring. Burst pipes caused by earthworks are prevented by using advance notifications of earthworks and the demonstration
of pipelines.
In accordance with the GHG Protocol, the emissions arising from our operations are categorised into Scope 1, 2 and 3. Scope 1 emissions consist of the emissions arising from our own operations, which include the emissions generated by the combustion of natural gas in energy production, and methane leaks from gas pipes. In 2022, our Scope 1 emissions were 27,371 tCO2e in total.
Our Scope 2 emissions consist of purchased electricity, natural gas and district heat. In 2022, we purchased approximately 490 MWh of electricity and natural gas energy for our own use, with the resulting emissions being approximately 64.6 tCO2e.
Our Scope 3 emissions consist of SK Group's other emissions. With regard to this category, we are currently only reporting the emissions from the kilometres driven by our personnel subject to compensation as well as the emissions arising from the natural gas sold by us. Our employees received compensation for approximately 207,215 kilometres driven, corresponding to total emissions of 18.10 tCO2e.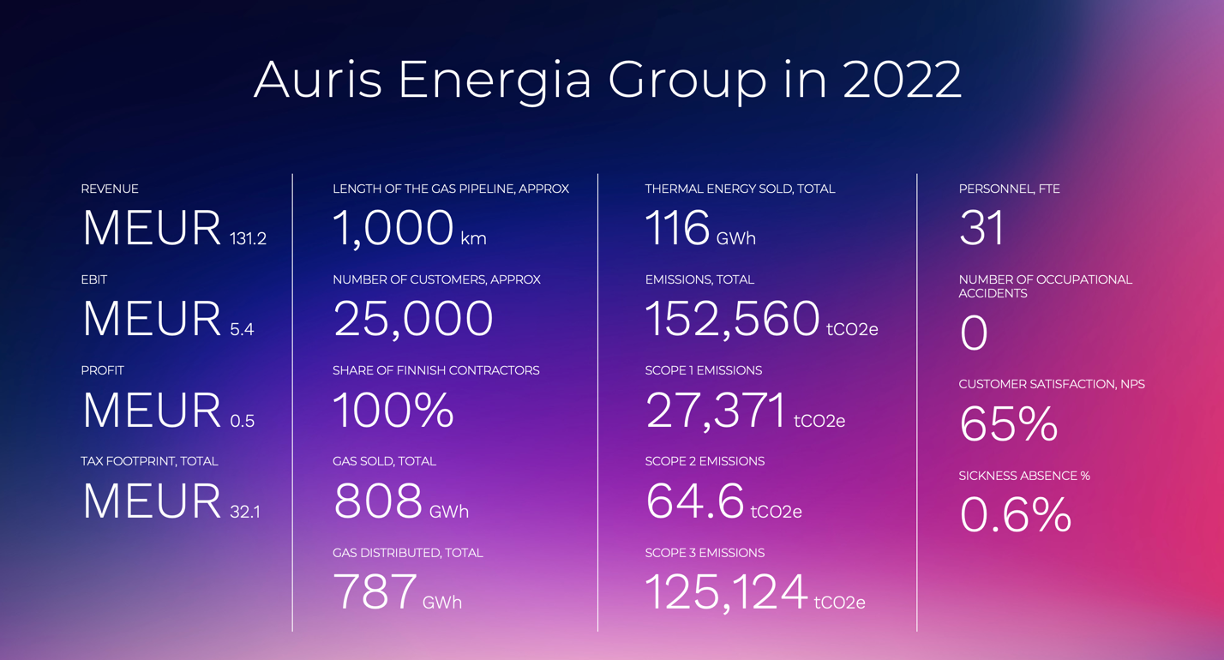 The goal of our environmentalresponsibility is carbon neutrality
Our environmental targets are an integral part of our business strategy. Auris Energia Group's long-term strategy is focused on increasing the share of biogas and other low-emission gases and energy forms in our services as well as the prevention of gas leaks. Our goal is for the Group to be carbon neutral 2040.
We will materially increase the proportion of biogas and other low-emission gas of the gas sold and distributed by us. Our goal is for low-emission gas to make up 50% of the gas sold and distributed by us by the year 2030.
We will achieve this target by increasing the share of biogas and other low-emission gases of the gas in our distribution network and by incorporating carbon dioxide capture technology into our business operations. We will also continue to actively pursue the reduction of gas losses in our networks.
Auris Energiapalvelut's sustainability strategy is part of the Group's sustainability strategy. Our target is for 75% of the steam and heat produced for our customers by our energy services to be emission-free by the year 2030.
Our other activities to reduce our carbon footprint are focused on measures that promote both the Group's business operations and well-being in society. We have divided these into six quantifiable measures:
Auris Group will significantly reduce its own and society's carbon dioxide emissions by 2030 and 2040, respectively. To achieve this, we will replace high-emission energy sources, such as coal, oil and liquefied petroleum gas (LPG), with renewable gases. The ultimate goal is zero-emission business operations.
Auris Group will increase the share of its total gas distribution and sales represented by biogas and low-emission gas.
Auris Group will reduce methane leaks in its distribution network by upgrading the network.
We will increase the efficiency of our customers' gas consumption through the modernisation and optimisation of the tools related to gas use.
In the future, the majority of Auris Energiapalvelut's products and services will be based on low-carbon and zero-carbon energy production.
We will contribute to the future of renewable and low-carbon energy production by supporting the research and testing related to low-carbon technologies.
Safety
The safety and health of our employees, customers and partners are the foundation of everything we do. We continuously monitor and improve the safety of our operations and report on it on a regular basis. We identify and prevent the realisation of detected safety and well-being risks in our operations and in the operations of our subcontractors.
Occupational health and safety
Most of the work performed by our personnel is office work, which involves minimal physical risks but potentially significant psychological stress. We take increasing psychological stress into account and assign duties in a balanced manner. Our occupational health care provider has also assessed the health and safety risks of our gas distribution and energy service sites.
Our safety rules and procedures specify detailed requirements for the safety of our operations and the operations of our subcontractors.
There were no occupational accidents at the Group during the period under review in this sustainability report. Amongst other things, we prevent accidents by means of safety walks, which involve monitoring compliance with safety instructions by our employees and subcontractors.
We identify potential risks at each site before any work is carried out and report these to the management. Our Board of Directors also monitors through regular reporting the safety of the work carried out by, and for, the Group in conjunction with each board meeting, i.e. at least every other month.
The estimated health and safety impacts of products and services
As a leading company in our field, we understand the health and safety risks associated with our products and services. To minimise these risks, we comply with all legal requirements, monitor our distribution network 24/7 and, where necessary, provide instructions to our customers and partners on how to minimise risks.
We also conduct safety walks at our subcontractors' construction sites, and Auris Energiapalvelut monitors its energy production plants 24/7, all year round.
The safety and qualityof the gas we sell and distribute is the responsibility of the Finnish gas transmission system operator Gasgrid Finland Oy.
Our goals are as follows:
maintaining our record of zero accidents
avoiding damage to our gas pipes and other equipment
preventing third-party hazardous incidents and adverse impacts